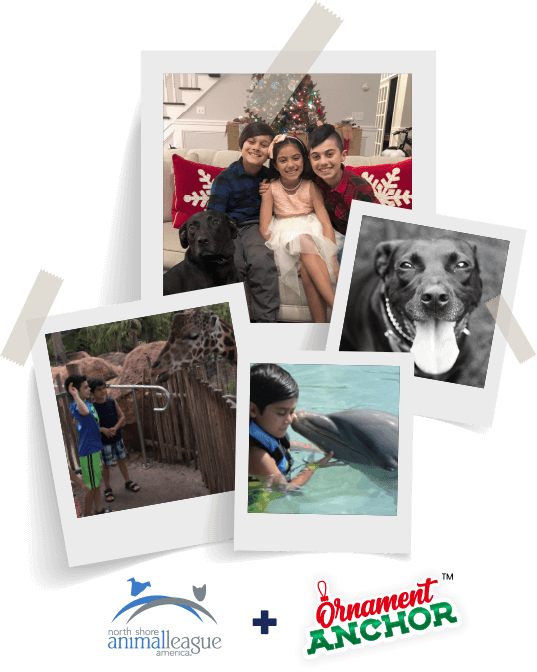 Passion for animals + Love for entrepreneurship
My passion in life is animals. Ever since I was super young I've had a fascination with all of life's creatures, from extinct animals like my favorite dinosaur the Utahraptor to today's endangered animals like the Gharial. One very special animal in my life is my dog, Zara. We rescued her from North Shore Animal League and she's been such an important part of my love and understanding of animals.

This is why my brother and I decided to give a portion of our profits to help shelter pets like Zara, so they too can find a forever home. My goal is to help as many animals in need as I can. When I grow up, I hope to expand this to other species, like endangered animals.
Every year, an estimated 2,000,000 homeless pets are euthanized. Our goal: help bring awareness to support North Shore Animal League America's mission: a no-kill world where all homeless pets find loving homes.

We give gack 10% of all profits to support this mission.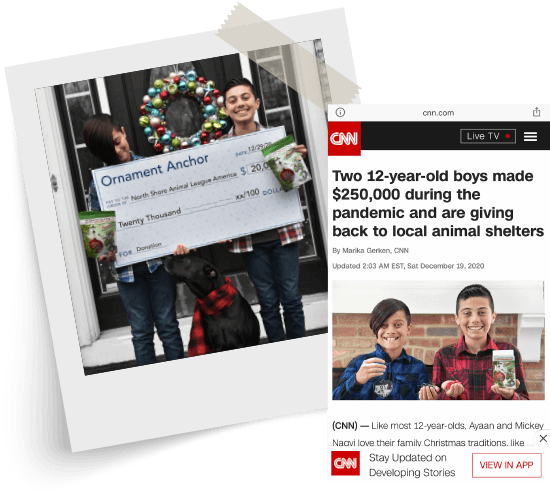 This past year we donated $20,000 to Pets in need like Zara.
We were humbled to be recognized by as "CNN Heroes" for giving back and raisng awareness for the no-kill movement. This could not have been possible without the amazing support from our customers. Many of you also share the same passion as my brother and I. Thank you for supporting responsible business owners that care not only about profits but also important social causes like this one.
We are commited to helping homeless animals and that extends beyond Ornament Anchor's monetary efforts. As Student Ambassadors for NSALA, we created a hands-on program that students can participate in to raise awareness for shelter pets in need called "The Shelter Heroes Project".
The Shelter Heroes Project a NSALA Student Ambassador Program
As student Ambassadors for North Shore Animal League America, we created the Shelter Heroes Project; a FREE school wide initiative to help bring awareness to pets in need and promote a positive school climate.

Our program starts with a virtual assembly where kids follow us along on an adventure with Rocky, a pup in need who was rescued North Shore Animal League America; the largest no-kill animal shelter in the world. Kids learn what goes in to the rescue efforts and why it is important to rescue animals from no-kill shelters.

Then, each classroom works together and participates in STEAM and SEL activities, while also making and collecting items for shelters in their local area.