Meet the founders of Ornament Anchor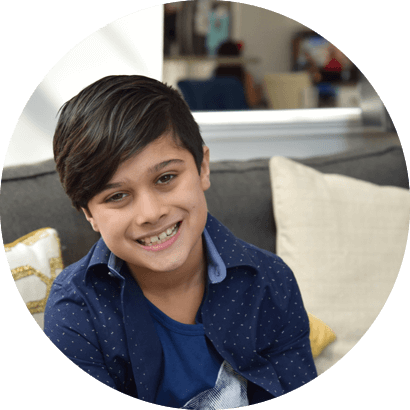 Big ideas sometimes come in small packages.
Born into a long line of entrepreneurs, The Naqvi Brothers have always enjoyed watching ideas grow and love to come up with new ideas too! The idea for Ornament Anchor came from a problem our family had with our own ornaments.

One day, one of our extra special ornaments fell off our tree and broke. We were really sad because it had special meaning to our family and was irreplaceable. I thought- these silly hooks just don't stay put! There HAS to be a better way to keep our ornaments safe on trees. That's when Ornament Anchor was born.

We've grown and learned alongside our parents who are entrepreneurs so we turned to them to help to create a few prototypes! We worked on countless designs until it was perfect and we felt it was ready to launch. We are super excited to bring Ornament Anchor to life and help others save their precious ornaments!
Help me help pets.
My passion in life is animals. Ever since I was super young I've had a fascination with all of life's creatures, from extinct animals like my favorite dinosaur the Utahraptor to today's endangered animals like the Gharial. One very special animal in my life is my dog, Zara. We rescued her from North Shore Animal League and she's been such an important part of my love and understanding of animals.

This is why I've decided to give a portion of my proceeds to help shelter pets like Zara, so they too can find a forever home. My goal is to help as many animals in need as I can. When I grow up, I hope to expand this to other species, like endangered animals.
Big plans - 2x Shark Tank
We've been on ABC's SHARK TANK twice - 2019 and 2021 we were lucky enough to make it into the "Shark Tank" with our family. It was such a great experience and really inspired us to follow our dreams to bring our product, Ornament Anchor, to life! We are so excited to see what kinds of adventures Ornament Anchor takes us on!
The Team
Ayaan, Founder, Age 14

All Things & Design

Favorite Christmas Tradition:
Christmas Eve Game Night

Mickey, my Brother, Age 15

Business Development

Favorite Christmas Tradition:
Tree Tailgating with Friends

Amanda, my Mom, Age?

Design & Business Assistant

Favorite Christmas Tradition:
Baking Cookies

Hamza, my Dad, Age?

Sales and Operations

Favorite Christmas Tradition:
Hanging Ornaments, Eggnog
Press Overview
Ayaan is an 14 year old kid-entrepreneur born and raised in Shelton, CT. Ayaan and his family are 1 of only 4 companies to ever appera on ABC's Shark Tank twice!

Originally invented for his school's invention convention, Ayaan Naqvi created the idea for Ornament Anchor when he was in 4th grade, at only 10 years old. Coming from an entrepreneurial family, Ayaan knew he was onto something when his booth was overwhelmed by adults asking him where they could purchase his Ornament Anchors. Ayaan went on to win first place in his classroom. Now with the help of his older brother, Mickey, 15, and Mom, Amanda, he's following his dreams of bringing Ornament Anchor into the hands of consumers worldwide.

For press inquiries, please contact us!